Begley Law Group's Ethan Ordog Receives 2014 Robert W. Criscuolo Award from the Burlington County Bar Association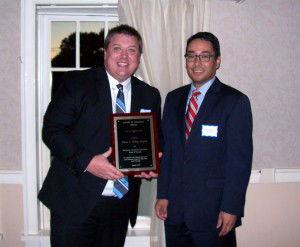 On September 23, Begley Law Group attorney Ethan Ordog received this year's Robert W. Criscuolo Award at the Burlington County Bar Association's annual State Bar Night at Indian Spring Country Club.
The Honorable Ronald E. Bookbinder, Assignment Judge of Burlington County, presented the award. Ordog clerked for Bookbinder in 2007 and 2008.
The Robert W. Criscuolo Award is presented annually to an attorney who demonstrates significant involvement and contributions to the Bar Association, to community service and to other civic activities. He or she must be in good standing in the Association and must be either under the age of 36 or have been practicing law for five years or less. The prestigious award is named for the late Robert W. Criscuolo, a former name partner of Parker McCay.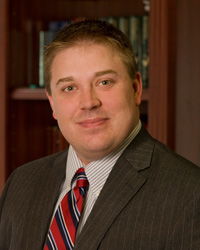 A partner at Begley Law Group, Ordog concentrates his practice in guardianship and in estate and trust litigation and administration. He is licensed to practice law in New Jersey and the U.S. District Court for the District of New Jersey, and he is a member of the New Jersey Bar Association and the bar associations of Burlington and Camden counties. He is presently the chair of the Burlington County Probate Committee and on the board of directors for United Cerebral Palsy of Philadelphia.
Ordog received his law degree from Roger Williams School of Law in Bristol, Rhode Island. While attending Roger Williams, he was a law school ambassador. He completed his undergraduate studies at Moravian College in Bethlehem, Pennsylvania, graduating cum laude with a political science degree.